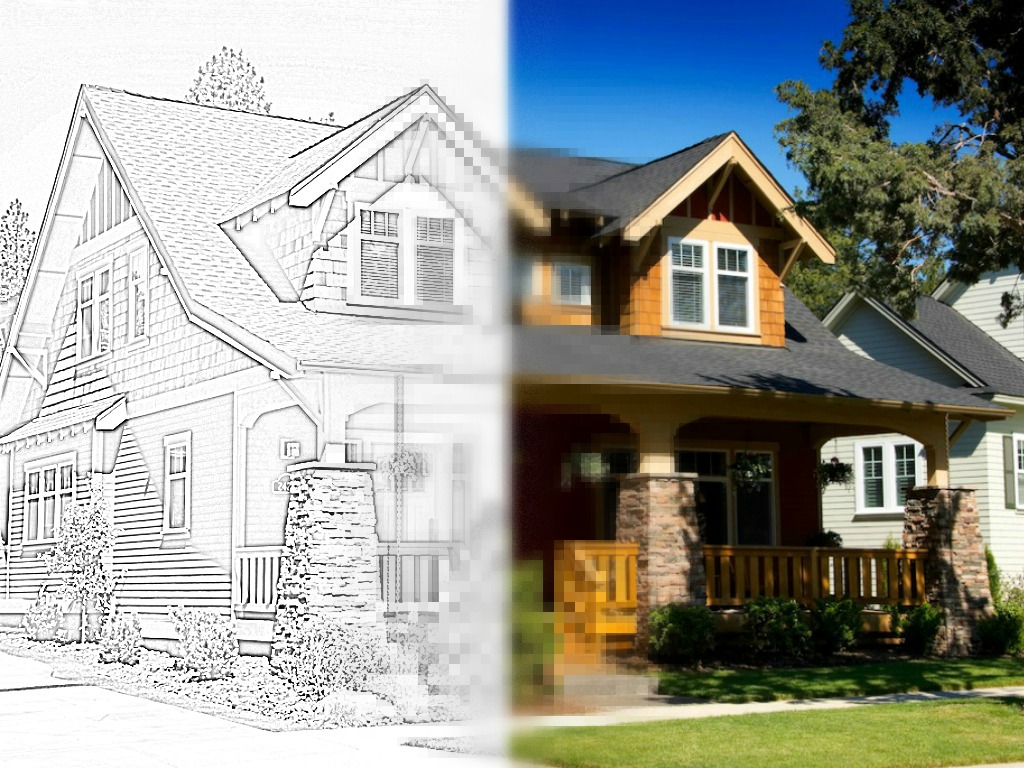 Building a House: A Checklist
Why go to the trouble of building your own home? The answer is simple: because it ensures that your home will meet the wants and needs of you and your family. Better yet, living there will be FUN!
While building a home is well worth the effort, it is also a complex and challenging process to navigate. In order to have the best possible outcome, it's imperative to understand the process of building a house before you begin.
To help you get started, we've put together this checklist of things to do and consider at each stage of your project.
Building a House STAGE 1: Financing
In order for you to get a home construction loan, there are certain financing steps you'll have to take:
Check Your Credit – Before you start applying for a construction loan, you'll want to order your credit report and check it for errors. If you find any, get those cleaned up as quickly as possible. The cleaner your credit, the easier it will be for you to obtain financing.
Consider A Down Payment – What can you realistically put down as a down payment? You'll want to take into consideration unexpected building expenses that come up during the project as well as your moving expenses and final purchases like furniture.
Mortgage Options – Lenders can offer you various finance products such as fixed rate, variable, 15-year, 30-year, FHA and traditional mortgage. Sit down and look at your current financial life, as well as the financial life you expect in the next 5 – 10 years, to determine which mortgage option makes the most sense. Once you know which option will work best for your situation, you'll need to get preapproved from your chosen lender.
Things to be aware of when applying for a construction loan:
Typically speaking, securing a construction loan will require more time and money than a conventional loan.
Banks will often require more documentation for a construction loan, so be sure to have yours in order before applying.
"Single Close" loans finance both the lot and the home and serve as long-term financing, while "Two Step" loans are used to finance the lot and construction. With this second loan, the home owner will refinance with a conventional loan once the build is complete.
Borrowers generally make interest only payments only on the portion of funds used during construction and will take draws as needed to cover materials and labor.
Not only will the borrower have to be approved by the lender, but so will the builder.
How Much Money Will You Need to Borrow?
Of course, in order for you to really know how much home you can afford to build, you've got to understand the costs associated and what those costs are in your local area. For instance, prices for new homes vary widely from $80 – $400 per square foot or more depending on finishes and where in the country your home is being built.
We've put together a comprehensive step by step guide to answer the question "how much does it cost to build a house".
That being said, here are some specific home building costs that your construction budget should include (click here for a handy worksheet):
Architectural / Design Fees– Be aware that custom home plans run from 5% to 15% of construction costs. However, if you start with a house plan, and even if you request modifications to that plan, you are only looking at a fee of 2% or less.
Professional Fees– Every project is unique, but most will require the services of surveyors, geotechs, energy experts, etc., and all of these people will need to be paid by you.
Permit Fees– You'll pay a variety of fees to obtain approval for many aspects of your project.
Site Preparation – The crew can't begin building your house until your land has been cleared and prepared. This process can include things like demolition, grading, debris removal, etc.
Primary Construction Costs– A good chunk of your budget will cover things like laying the foundation/slab, siding, roof, decks, and systems like HVAC, plumbing, electrical to interior elements such as drywall, paint, flooring and appliances.
Landscape and Hardscape – From driveways and walkways to trees and shrubs.
Builder / General Contractor Fees – Your builder will be able to tell you the exact percentage.
Final Cleanup – Once construction is complete, there will be expenses associated with cleaning up the home and land before you can move in.
Sales Tax
As with any build or renovation project, there will always be those unforeseen expenses – so be sure to set some money aside.
STAGE 2: Buy Land
The physical location of your home is just as important as the features in it so consider the following:
Ask your builder the condition of your lot. Are there any added expenses related to it? Will you need a well dug or septic tank put in? Are there already power and water hookups at the site or would those have to be added? Ideally, you want to find a site that needs minimal work before you can begin building.
Walk the neighborhood to understand where your home will potentially be located. Is it near shops and stores? Is it close to your children's school? Is there a lot of traffic that may be problematic with pets and little ones? Speak to locals to get a good sense of what living in the area will be like to determine whether the lot is the right one for your family.
Consider your family's specific interests and lifestyle. Are you big on spending time outdoors? Are you avid gardeners? If so, how is the soil? Do you want to eventually put in a pool? Entertain outdoors? The size, shape and location of your lot will affect these needs.
STAGE 3: Choose the Right House Plan
Detailed house plans and specifications are the only way for you to fully understand what you're buying. These plans aren't just paper and ink, they are the directions to build the HOME of your dreams. Having complete plans and detailed drawings will reduce unforeseen change orders, delays and cost overruns.
Things that will help you choose the right house plans:
Start by thinking of what size home will suit your family the best. Some families will need a large 6-bedroom home while others want only a 2-bedroom home. Think about how many bedrooms you need now and in the future (if you plan on growing your family larger – take this into account) for family and guests. How many bathrooms will you need to accommodate everyone?
Choose a floor plan that fits your family's lifestyle. Do you entertain often? If so you may want a more modern, open concept living room rather than a traditional compartmentalized floor plan where walls separate rooms. Will you keep your current furnishings? If so, what kind of space will they fit best in?
Understand the pros and cons of certain features. For instance, that huge bay window that lets in all of that natural light looks gorgeous, but it may also make your heating and cooling bills higher. The open floor plan that is ideal for entertaining may not seem so ideal when you can't concentrate in your adjacent home office when your kids are playing videos games in the living room. Weigh the pros and cons of your options and ask the plan's designer for advice. A good designer will be happy to work with you and modify the plans to suit your needs and lifestyle.
Make sure the house plan fits on your lot or that it can be modified to fit.
STAGE 4: Select a Home Builder
It's incredibly important you choose the right builder for your project (Click Here for our comprehensive guide on the process.) or risk ending up unhappy with the final outcome – AKA – YOUR HOME!
To be sure you choose wisely:
Do Your Research
Spend some time researching the builders in your local area. How long have they been in business? How are their financials? Do you like the images of their completed projects?
Ask Questions
Once you've selected 2 – 3 builders to interview, be sure to ask any questions you may have. If they seem unwilling to answer all of your questions, consider this a red flag. Your builder should want to take the time to answer your questions and make sure you fully understand and are comfortable with the process.
Ask about subcontractors. It's your right to know who will be working on your home. Find out how long the builder has been working with each subcontractor and why they've chosen them for their team.
You'll also want to ask how long they expect it will take to build your home and can they work with you at all to reach a specific end date (ie – to coincide with the end of a sale or existing lease).
Get References
Ask your builder to give you references of past clients. Call these people and ask if they would work with the builder again. Were there any missteps and did they complete the project on time and within the budget?
Trust Your Gut
Once you've done your due diligence, check in with your gut. Do you feel confident with the builder you're about to select or do you have any doubts or reservations? Do you sense transparency in the process or months of wondering what is going on? Trust your gut.
At the Bungalow Company we understand the difference between a House and a Home is the meaning it has of the people who live in it. We are here to help you transform our house plans into your home. We will adapt and tailor any of our designs to meet your lifestyle, site and budget.
This checklist should help you know your responsibility and others' at every stage so that you end up with a home you love for many years to come.
https://thebungalowcompany.com/wp-content/uploads/2016/06/holly-exterior.jpg
768
1024
Bungalow Company
https://thebungalowcompany.com/wp-content/uploads/2013/12/BungalowCompanyLogo.png
Bungalow Company
2019-04-20 11:09:18
2019-04-22 11:59:36
Building a House: A Checklist