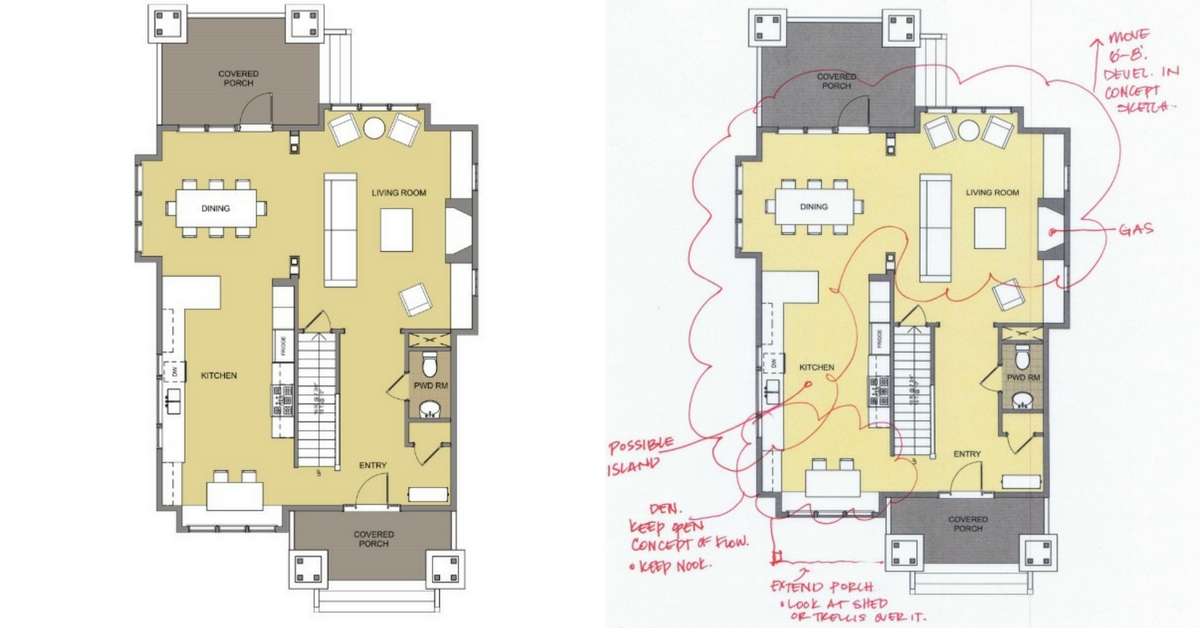 4 Things to Consider When Customizing a House Plan
Why Existing House Plans are the Right Way to Go
Does this scenario sound familiar? You searched and searched every weekend for that perfect house you'd been envisioning. You started out really excited and hopeful, but your energy and hope was soon drained as none of the houses you looked at were ever quite right.
There was that one in the perfect location but the floor plan was totally wrong. And that other one that had the huge, level backyard perfect for summer BBQs, but the kitchen was ridiculously small. Maybe you even considered buying one of those houses even though they weren't 100% perfect thinking you'd hire a crew to knock out a few walls and move some plumbing, but soon realized that would be a living nightmare.
You finally decided that buying a house plan made the most sense. Congratulations! We think this is the right way to go. But, like many people, you may want to make some customizations to the plan and turn that house into the home of your family's dreams.
When you purchase a house plan from the Bungalow Company, we offer digital data (CAD files) for an additional charge, that your local architect/designer may use to make the changes you require.
Here are 4 things to keep in mind when deciding on what customizations you'll require:
1. Your Lifestyle Should Inform Room Size and Configuration
Every family's lifestyle is different depending on what stage they are in. For instance, what a newlywed couple looks for in a home will be drastically different from a pair of empty-nesters. So, before you start making customization requests, it's important to consider a few things:
Are you recently married? If so, do you intend to start a family soon? How many children do you plan to have? Does your current plan have enough space for expansion as your family expands?
Will you want dedicated guest rooms, or will you just make Jake sleep with his little brother and have your parents sleep in his room?
Do you entertain often? If so, how do you entertain? Do you require a formal dining room and a large open living room? Or do you tend to have smaller, more casual family get-togethers?
If you're building a home that you plan on living in until retirement and beyond, consider how your choices now could affect how long you'll be able to live independently in your home, i.e., aging in place.
Once you get a sense of your general needs, sit down with your family and discuss what everyone wants in a home. Are there certain rooms you spend more time in than others? For many families the kitchen is the main room of the house where everyone gathers to connect at least once a day. For others, the family room is where they watch movies and TV and laugh together. Still others, those lucky enough to live in moderate climates, spend far more time outside on their deck or porch.
2. Think about the Future Use of Rooms
Don't just think about what your needs are today, think long-term when considering your customizations. How will your lifestyle evolve and what will your family's needs be 10 years from now? Will you have multiple kids? Will they be little? Teenagers? Maybe in 10 years your kids will have flown the coop? Will you need space for your aging mother to come live with you? If so, will your husband insist she have her own space over the garage?
A final thing to consider in this regard is will the changes you make be marketable in the future to home buyers should you decide you want or need to sell your home at some point?
3. Will Your Furnishings Fit?


Unless you have an unlimited budget and plan on going out and buying all new furniture for your new home, chances are you will be bringing your furniture along. Will the floor plan accommodate your existing furniture and arrangements? When thinking about the sizes of your rooms, take your furniture into consideration.
Measure the furniture you have now and look at the size of the rooms on the plans. Will there be enough walking space (at least 36 inches) around the seating arrangements and clearance for doors to swing? Will the height of your furniture block any windows? And how will it affect the natural traffic flow of the home?
4. Consider Your Budget
Deciding on house customizations is fun, really fun. You get to completely dream up your, well, dream home and write down or draw on paper exactly what you want. But too many people get caught up in the fun of it and end up creating a customized home that they can't afford to build.
While it's incredibly important that you are completely happy living in your home, you also need to be very sure you can pay for it and live comfortably within your means so you don't wind up completely blowing through your savings. (Here is an in-depth guide for calculating the cost to build a home.)
A house plan is a great starting point, but you may need to customize it so it fits you and your family perfectly.
https://thebungalowcompany.com/wp-content/uploads/2015/04/House-Plan-Modifications.jpg
628
1200
Bungalow Company
https://thebungalowcompany.com/wp-content/uploads/2013/12/BungalowCompanyLogo.png
Bungalow Company
2019-04-13 11:39:18
2019-04-22 12:00:29
4 Things to Consider When Customizing a House Plan