"What is the cost per square foot to build a home?"
This is a reasonable question, considering that many realtors sell homes by volume, and lending institutions appraise homes in part by applying a value per square foot. The fact is that 1500 square foot homes cannot be built for the same price. Home Builders that repeatedly build the same home at the same quality level will tell you that cost per square foot will vary on each home – depending on site condition, weather and lumber prices.
For a comprehensive answer to understanding the cost to build a house, click here.
New homes are like automobiles in the sense that when you purchase a new car, the price is not determined by the size of the car as much as the options, complexity to build and deliver.
Certainly cost per square foot is a good way to get started when creating budget however really getting down to specifics is the only to accurately estimate the cost of a new home. A good general rule is that the smaller the home the more it will actually cost per square foot because every home has common core elements like: kitchens, heating systems, bathrooms; the cost of these big ticket items will be spread over less square feet bumping the cost per square foot. The upside to this equation is the less feet you build the less feet you buy.
Complexity of design, site conditions, and material specifications have a tremendous impact on what a home will cost to build. Consumers should understand what they are buying, and builders need to understand what the consumer expects prior to quoting square footage prices.
Many of our clients choose to purchase an an Estimation Set of plans so they may request bids from builders / contractors before buying a full priced plan. We will apply most of the cost for this set to your plan purchase. Estimation Sets are stamped "Not for Construction" and a contractor may not build from it legally.
Download and print the PDF – Residential Building Costs Quick Reference Guide by clicking here.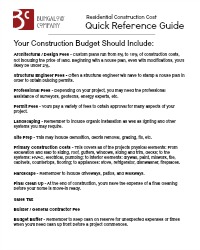 Your Construction Budget Should Include:
Architectural / Design Fees – Custom plans run from 5% to 15% of construction costs, not including the price of land. Beginning with a house plan, even with modifications, you'll likely be under 2%.
Structural Engineer Fees – Often a structural engineer will have to stamp a house plan in order to obtain building permits.
Professional Fees – Depending on your project, you may need the professional assistance of surveyors, geotechs, energy experts, etc.
Permit Fees – You'll pay a variety of fees to obtain approval for many aspects of your project.
Landscaping – Remember to include organic installation as well as lighting and other systems you may require.
Site Prep – This may include demolition, debris removal, grading, fill, etc.
Primary Construction Costs – This covers all of the projects physical elements: From excavation and slab to siding, roof, gutters, windows, siding and trim, decks; to the systems: HVAC, electrical, plumbing; to interior elements: drywall, paint, millwork, tile, cabinets, countertops, flooring; to appliances: stove, refrigerator, dishwasher, fireplaces.
Hardscape – Remember to include driveways, patios, and walkways.
Final Clean Up – At the end of construction, you'll have the expense of a final cleaning before your home is move-in ready.
Sales Tax
Builder / General Contractor Fee
Budget Buffer – Remember to keep cash on reserve for unexpected expenses or times when you'll need cash up front before a project commences.
Download and print the PDF – Residential Building Costs Quick Reference Guide by clicking here.