Mediterranean Style Homes
Inspired by the luxurious style of seaside resorts, Mediterranean style homes are popular in many coastal neighborhoods. They evoke feelings of warm nights and cool breezes along the Mediterranean sea. Anyone thinking about moving into a Mediterranean house or converting their current place should know what sets this unique architectural style apart.
Click here to learn about other House Styles.
The History Behind Mediterranean Style Homes
Mediterranean style homes were first popularized in the 1920s, though many of the design elements used take inspiration from much older Spanish and Italian architecture. This type of villa was frequently featured in Hollywood films of the time, making people associate the style with the rich and famous of the "Roaring 20s."
At first, Mediterranean architecture, especially in the United States, was reserved for luxury resorts. You didn't start finding it appearing in homes until prominent designers and architects such as Addison Mizner and Bertram Goodhue began to embrace the idea.
The popularity of Mediterranean homes only declined when the Great Depression hit, taking away buying power from the general public. Mediterranean style homes were seen as a luxury that few could afford.
In recent decades, however, Mediterranean architecture has seen a resurgence. Mediterranean homes are particularly common in coastal areas of the U.S., such as California and Florida, as well as areas that already feature a heavy Spanish and Italian influence on their architecture.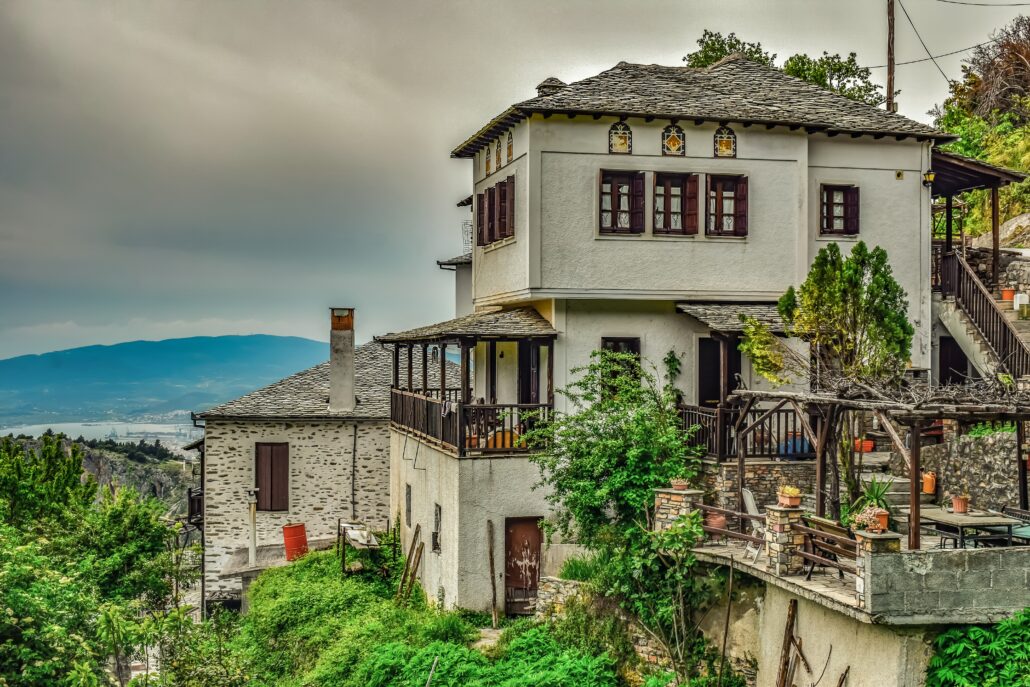 Why do People Choose Mediterranean Style Homes?
Mediterranean style homes are ideal for coastal climates. They embrace space and light, featuring a breezy open layout with plenty of windows to allow for air circulation. The interior space is often simple yet elegant, avoiding unsightly and sometimes dangerous clutter.
Mediterranean style homes are also designed to keep cool in warm tropical weather. In addition to having plenty of windows and an open layout, most homes also feature terracotta elements. This is a type of lightweight, porous clay that can be used to make wall elements, floor tiles, and, most importantly, shingles.
Terracotta features give Mediterranean style homes their classic look, with rusty red roofs and smooth tiled floors. What's more, the roof shingles reflect sunlight, and their half-tube shape promotes plenty of airflow. They help to release trapped heat and insulate the space below to keep rooms cool efficiently.
Mediterranean style homes are often ideal for those who like to spend their free time outdoors. Most houses place a heavy emphasis on garden design, with a lush yard that seems to spill straight from the interior living space.
For the most part, people choose a Mediterranean style home as part of a lifestyle choice. Many people find the style to be cozy and relaxing without sacrificing sophistication. Because of their unique layout, Mediterranean homes also allow for easy entertaining.
Mediterranean vs. Spanish Style Homes
Though Mediterranean style homes are influenced by the architecture of Spain, they have some key differences when compared to Spanish style homes. Spanish architecture is often more simple in exterior design than Mediterranean, limiting ornate accents to areas around arches and windows.
Spanish style homes also tend to boast more rounded features. This extends beyond just windows and archways to include walls, towers, and turrets. Inside, they tend to have less space than Mediterranean style homes, with many only boasting one floor.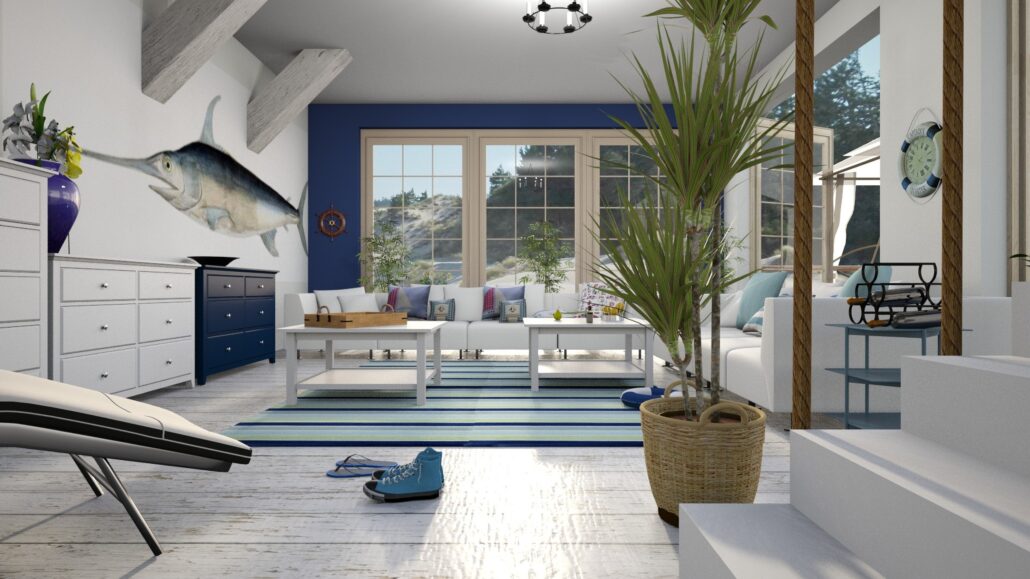 The Different Types of Mediterranean Style Homes
While all Mediterranean homes share some similar features, there are several clear distinctions amongst the different designs. For the most part, styles differ depending on cultural influence. There are three main types of Meditteranean homes to choose from.
Italian Renaissance
Mediterranean homes inspired by the Italian renaissance include many of the same features found used in the architecture of the time. They tend to have a large, imposing facade, an exterior courtyard, and ornate detail both inside and out.
Like Italian renaissance architecture, these homes also draw inspiration from ancient Greece and the Roman empire, boasting elements such as columns and rounded arches. Some more modern designs also draw influence from the late Victorian architecture of the early 1900s.
Spanish Revival
Instead of including elements Italian architecture, as the name suggests, Spanish revival homes focus on architectural elements popular in Spanish colonial architecture, which is prevalent in coastal regions such as California and Florida.
Spanish revival homes tend to be more simplistic than other Mediterranean style homes. They rely on clean, sharp lines instead of a flowing design, and their floor plan is not always open. Spanish revival homes also tend to have a thick, low-pitch roof line as opposed to the higher and steeper roofs of other Mediterranean styles.
Modern Mediterranean
While many older Mediterranean homes embrace the architecture of the past, newer designs often try to put a modern spin on an old classic. Modern Mediterranean homes can include both Spanish and Italian influences, but no matter what the architectural style, the focus is on resort-style living.
Most modern Mediterranean homes have a spacious, open floorplan that boasts all of the same amenities and comforts as any other twenty-first-century house. Many also place a heavy emphasis on both indoor and outdoor living, seamlessly blending the two with outdoor balconies and patios leading to the garden.
The Main Features of Mediterranean Style Homes
All Mediterranean style homes share several key features that set them apart from other architectural styles. Together, all of the different elements of the home make up an ideal coastal living space that offers plenty of breathing room.
The overall facade relies on a simple, understated look to create a unique beachy elegance to the design. Often, Mediterranean houses have a symmetrical exterior design, though modern layouts may boast the odd exception.
The exterior of most Mediterranean homes features stucco walls and a red-tiled terracotta roof. The stucco is sometimes left its natural colors, but often, it's painted neutral shades such as beige or white. The roof is usually low-pitched, with some Spanish revival houses having entirely flat roofs.
Windows and doorways are most often arched in the traditional Mediterranean style. Often, trim work is made of stone and includes detailed designs and masonwork. Wrought iron accents are also popular, especially on windows and around balconies.
Inside the home, the floorplan is usually open for the kitchen and living spaces, though there may be separate bedrooms. Houses are usually no more than two stories tall, and many are evenly rectangular or square.
High ceilings and a simple decor scheme allow for plenty of space inside the house. Most Mediterranean style homes use light pastels and neutral colors to allow more light to flow through, while warm woods give the place a slightly rustic feel. Carpeting in most rooms is usually swapped for tile, often the same rust-colored terracotta as on the roof.
Many Mediterranean properties place just as much of a focus on outdoor living as they do on indoor living. The garden is considered an important part of the home and often treated as an extension of the main living area.
Many Mediterranean style homes have an outer courtyard inspired by renaissance architecture, with a stone layout and plenty of lush greenery. They may also have patios or balconies extended from the house made of terracotta, stucco, or stone.
Inspired by the villas of Italy and Spain, Mediterranean style homes are a popular fixture in upscale seaside neighborhoods. It brings the feel of resort living into the home, with a cool, breezy layout, uncluttered decor, and plenty of space to enjoy leisure time both indoors and outdoors. It's easy to see why this versatile home has become standard for many families living in warm, coastal regions.
https://thebungalowcompany.com/wp-content/uploads/2020/03/mediterranean-style-house.jpg
667
1000
Bungalow Company
https://thebungalowcompany.com/wp-content/uploads/2013/12/BungalowCompanyLogo.png
Bungalow Company
2020-07-29 11:25:21
2021-06-09 10:04:03
Mediterranean Style Homes