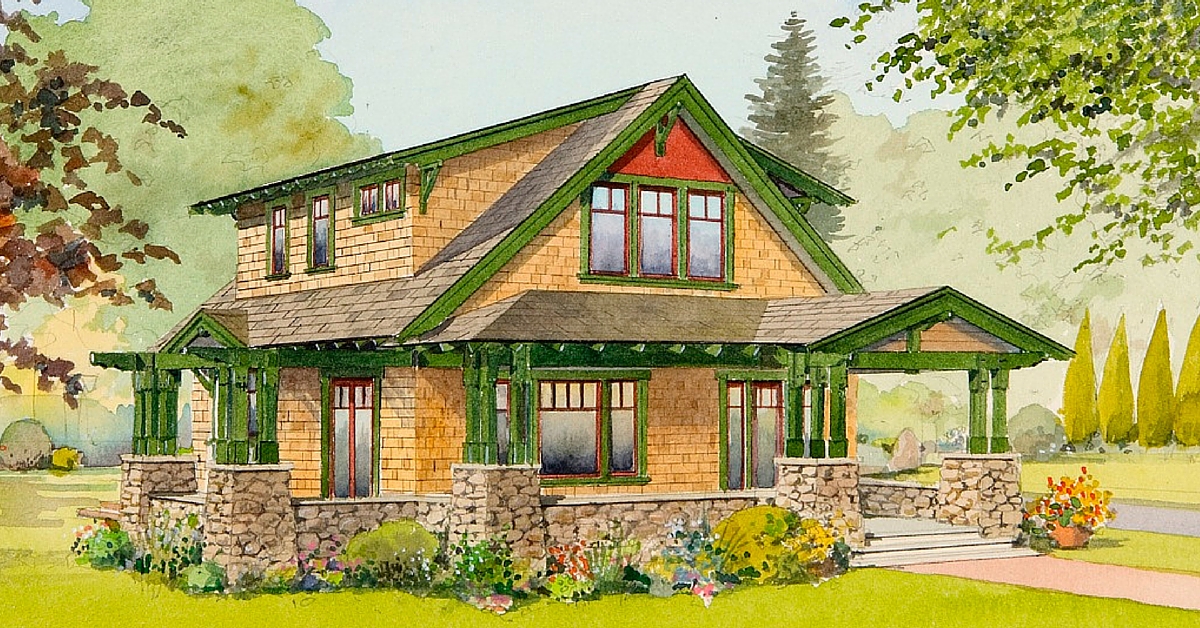 Small House Plans with Porches – Why It Makes Sense.
Over the last few decades America has become a country of backyard patios and decks. That's where people congregate on a summer evening to grill, play games, and talk. But many small homes with porches have missed the mark. We're inclined to associate small houses with small, nonfunctional porches. And why should the porch be small?
A full-size porch on a small house can make living better. It's as simple as that.
Aporch is the transition between the interior of your home and the outside world, where private and public spheres overlap. When built onto a small house, a porch needs to serve as additional living space in order to justify its use of the limited square footage. In other words, a decorative porch just doesn't make sense because it wastes space. Ideally, the porch should flow naturally outward from the interior of the house as in an open floor plan. Patio doors and French doors make excellent access points and also encourage natural light to filter into the home, increasing perspective while reducing the need for artificial lighting. A porch expands the dimensions of a small house, opening up the compact space. We can see a prime example of this in the 350-square-foot porch that Architect James Crisp designed to go with a 650-square-foot house in Eastern Connecticut.
When it comes to porch styles, there are four main options, and each brings its own set of benefits for small houses.
A traditional front porch can serve as both a meeting place for neighbors, fostering a sense of community, and as an extended entry for houseguests to shelter them from bad weather and welcome them into your home. The latter quality of extending the entry can help make your home seem larger. Among our small house plans,

The Evergreen

has the largest front porch, but

The Fox Tail

,

The Tulip

, and

The Peony

also have relatively spacious ones.
A back porch offers more functionality and flexibility and small house owners may find it convenient as an additional room. During nice weather, it's a great place for family and guests to gather after a meal, usually by walking from the living or dining room immediately out onto the porch. If you planted a vegetable or herb garden nearby, you can accentuate the porch with planters, window boxes, or a potting shed, and use it to go back and forth between the garden and your kitchen. You can also observe nature (including the wild animals you call your kids) from the safety of the porch, and add an intervening mudroom to keep the inside of the house clean.

Another interesting style is the wraparound porch, which can be connected with more than one room to expand the house as a whole. As with a back porch, guests can move from the living or dining room to the porch for a sheltered view of the garden. You can also connect it to the family room so the kids (and parents) can have a fresh-air outlet. A wraparound porch allows you to create zones with different functionalities, such as a formal seating area for serving guests and a casual area where the family can relax, the dog can lounge, and the kids can get the pillows dirty. This way, you can separate spaces of the porch without having to rearrange the same area whenever it's needed for a different use. When considering a wraparound porch, keep in mind that it will shade the interior of your house. While this may cool the house, you don't want to block too much natural light, as this will make a small house seem tiny.

Screened porches can be located in the front or back or be wrapped around the house. You can choose from many types of screens, including fiberglass, aluminum, sun-blocking, pet-proof, security, and even motorized. Instead of a plain screen covering, you have the option of incorporating storm doors and windows. The most obvious benefit of a screened porch is the greater control you have over the environment. The screen will keep bugs and harsh sunlight out and reduce the force of wind gusts. And movement from the interior to the porch will feel more natural, as though you're entering another room.
The size of your house doesn't need to limit the size of your porch. In fact, the porch of a small house is a vital component of the building and can go a long way in enhancing the comfort and beauty of a compact space.
References:
http://www.hgtvremodels.com/outdoors/types-of-porches/index.html
http://hookedonhouses.net/2014/03/11/designing-a-small-house-with-a-big-porch-in-connecticut/
http://evstudio.com/the-front-porch-and-what-makes-it-functional/
http://www.hgtvremodels.com/outdoors/what-you-should-know-about-porches/index.html
https://thebungalowcompany.com/wp-content/uploads/2014/08/Small-House-Plans-with-Porches-Why-It-Makes-Sense.jpg
628
1200
Bungalow Company
https://thebungalowcompany.com/wp-content/uploads/2013/12/BungalowCompanyLogo.png
Bungalow Company
2014-08-06 15:03:41
2020-08-10 13:31:34
Small House Plans with Porches – Why It Makes Sense.