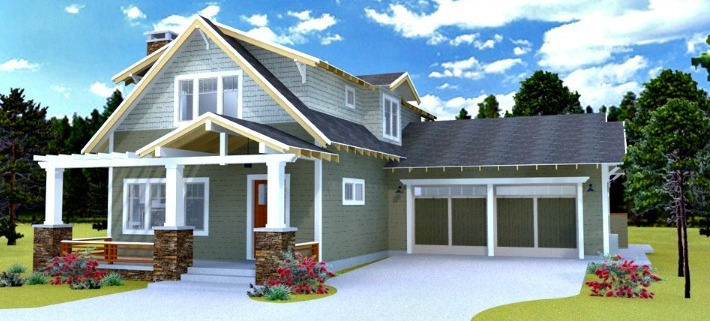 Meet Janice and Paul – They're Building the Bungalow of their Dreams!
It's exciting to follow the journey of someone who has decided to build the home of their dreams. That's why we want to introduce you to Janice and Paul. We've asked them to share their story and to let us follow along as they build their dream bungalow.

As an introduction, we asked Janice and Paul 6 questions:
1. What were some of your fears in choosing someone to design your home.
We were concerned about finding a good match not only for our taste in architecture but also our work style. We knew we'd want to be thoroughly involved in all aspects of the design process to ensure that our "vision" was articulated but we also wanted the expertise of an experienced designer.
2. What made you decide to build vs buy?
We've always had a desire to design and build our own home. Years ago we purchased a sloped lot with a gorgeous view, and we worked with a designer on a house for that site but ended up not building for many reasons. We looked at many existing homes in the area, but never found anything that appealed to us. Many houses have vaulted ceilings, poor energy efficiency and seriously dated or unappealing architectural styles. When we found the lot, we realized we could finally build the house we wanted in a great location. We are also incorporating advanced energy saving construction techniques that aren't usually included in existing homes.
3. What made you decide to design a house from scratch vs starting with an existing plan?
We actually began by looking at existing plans. I even found one that I thought would be perfect – the right number of bedrooms and bathrooms, etc. Then, I saw the actual house as it looks when built rather than the pictures on the website and it was a big disappointment.
The search for existing plans, however, led us to the Bungalow Company website. There we found several small house plans that we loved immediately and might have been very happy with but we wanted a bit larger house and one adapted to our actual site. Our building site is long but not very wide, so many standard home plans don't fit the site. After meeting Christian, we felt comfortable embarking on a design specifically for our lot. We "borrowed" some features from the Bungalow Company small house plans, though.
4. What opportunities have you discovered in being involved in all aspects of designing and building your home that you hadn't expected?
We've been surprised at how much we've enjoyed it. Friends and family warned us to not get involved with design and to just find a set of plans on the internet. Others warned that building a home would be filled with frustration and headaches. But, we've found the design and construction process to be exciting and rewarding. Sure, there are days when we wonder what we've gotten ourselves into, but when you see this structure take shape from a set of drawings you helped craft, it's pretty awesome.

We enjoy our meetings with Christian and his staff and the process of distilling our ideas and wishes into a design that suits our lot and budget. We were, and continue to be, amazed at the depth of Christian's knowledge and creativity. Our design meetings are fun and lively and include frank discussions of design options and ideas. As for construction, we also found the perfect match for our project in the Duey Brothers, Inc., and we've been impressed with their professionalism, attention to detail and organizational skills.
5. Why did you choose Christian Gladu and the Bungalow company to design your home?
Once we found the Bungalow Company website we knew that we had found a shared aesthetic. We were amazed to find that the Bungalow Company is located in Bend, not far from our lot. After a brief phone call, we set up a meeting to "interview" Christian and we knew within a short time that we had found the right person. We never bothered to talk to any other designers once we connected with Christian. We feel as certain today as we did that day that we found the right person for us and for our project.
6. How important has your team been in the early phases of designing your home?
Early in the process Christian advised us to select a contractor to bring on board early so that they could be aware of the design and be involved in construction issues that may arise during the design phase. Christian recommended a group of local companies he thought would be good matches for us and for our project. We interviewed four companies and selected the best fit and have never had second thoughts. Having the contractor be aware of our plans, construction schedule and budget helped move things forward so that once building permits were issued, we could begin construction immediately.
https://thebungalowcompany.com/wp-content/uploads/2014/12/Janice-and-Pauls-Dream-Home.jpg
375
710
Bungalow Company
https://thebungalowcompany.com/wp-content/uploads/2013/12/BungalowCompanyLogo.png
Bungalow Company
2014-12-04 15:41:47
2018-05-24 14:39:32
Meet Janice and Paul – They're Building the Bungalow of their Dreams!