14 Space Saving Tips for Small Homes
It's true of anything that the less you have, the more valuable that thing becomes. Living space is no exception. With that in mind, here are 14 tips to help you conserve space in your small house.
1. Mount bookcases on the wall.
In a small house floor space becomes a premium, so think about furniture that doesn't have to sit on the floor. You can line the walls with shelves for books and other items, leaving the floor available for additional furniture.
2. Use a shelf instead of a nightstand.
Nightstands take up a lot of space, especially if you have one on each side of a shared bed. They can make the bedroom seem pretty crowded. A simple solution is to replace each nightstand with a shelf, where you can set a lamp, an alarm clock, a book, etc.
3. Fold-down changing table.
When you welcome a new baby, you also say goodbye to free space. There's the changing table, the crib and/or playpen, and other pieces of furniture. If you can't use a separate room as a nursery, it makes sense to keep the setup as simple as possible. Mount the changing table to the wall so that you can fold it up when not in use.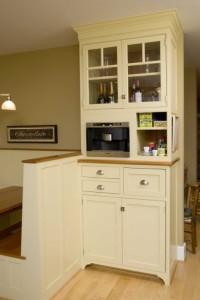 4. Recessed kitchen pantry.
The fewer things protruding into your small kitchen, the better. By cutting a hole in one of the walls (perhaps the one communicating with the garage), you can create an out-of-the-way storage area with shelves for food and even a small microwave.
5. Downsize kitchen appliances.
Is it necessary to have a full size refrigerator, oven, dishwasher, and microwave? You can economize on space simply by reducing the size of your kitchen appliances.
6. Use small light fixtures with white bulbs.
Scattering small light fixtures throughout the house can keep it bright and airy. White bulbs resemble natural light.
7. Use the porch or patio as living space.
With an open floor plan, you can extend your living space outdoors. A porch or patio will seem like a separate room in terms of space, and when the weather is nice you won't have to artificially heat and cool it except with perhaps a fan in the summer.
8. Use the space under windows.
Windows take up wall space already, but many homeowners leave the space underneath them unused. You can take advantage of this space with a window seat that includes a built-in storage area.
9. Tables with drawers.
As with windows, the space underneath tables can also be used. Consider buying coffee tables and end tables with drawers or cabinet doors.
10. Run storage up to the ceiling.
Don't be afraid of extending your storage areas right up to the ceiling. These can include things like shelves and wardrobes.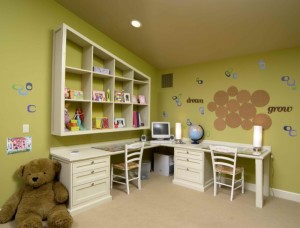 11. Add a loft.
Sometimes adding another level to a room can make a world of difference. If you have a recreation room or furnished garage/basement, for instance, you can build a loft to use as an office. It's like having a room within a room.
12. Organize the kids' stuff with lockers.
Your kids may not be thrilled about bringing school concepts into the house, but adding some metal lockers to a wall in the garage or setting up some cube storage in the mudroom can keep their clothes, shoes, and toys neatly out of the way.
13. Remove closet doors.
It's easy to take for granted the amount of floor space closet doors require when you swing them open on their hinges. You can free up bedroom space simply by removing the doors and replacing them with curtains on a suspension rod.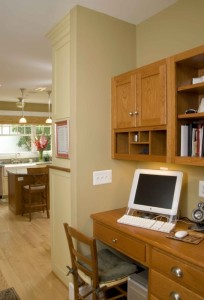 14. Multipurpose rooms.
Who says a room can only have one purpose? Clever storage and furniture arrangement can allow you to use the same room for different purposes. For example, the kitchen can serve as an eating area, and the living room can double as a rec room. You can set up an office almost anywhere. And remember that the porch can also serve as living space.
References:
http://www.diynetwork.com/home_improvement/13-clever-space-saving-solutions-and-storage-ideas/pictures/index.html
http://www.apartmenttherapy.com/small-bedroom-decorating-ideas-202492
http://www.popularmechanics.com/how-to/blog/10-space-saving-ideas-from-an-itty-bitty-home-15627737
http://www.styleathome.com/homes/small-spaces/25-space-saving-tips/a/952
http://joannagoddard.blogspot.com/2014/01/15-genius-tips-for-living-in-small-space.html
https://thebungalowcompany.com/wp-content/uploads/2014/06/fir-master-bedroom-3.jpeg
685
1024
Bungalow Company
https://thebungalowcompany.com/wp-content/uploads/2013/12/BungalowCompanyLogo.png
Bungalow Company
2014-08-20 10:11:30
2014-08-20 10:34:35
14 Space Saving Tips for Small Homes