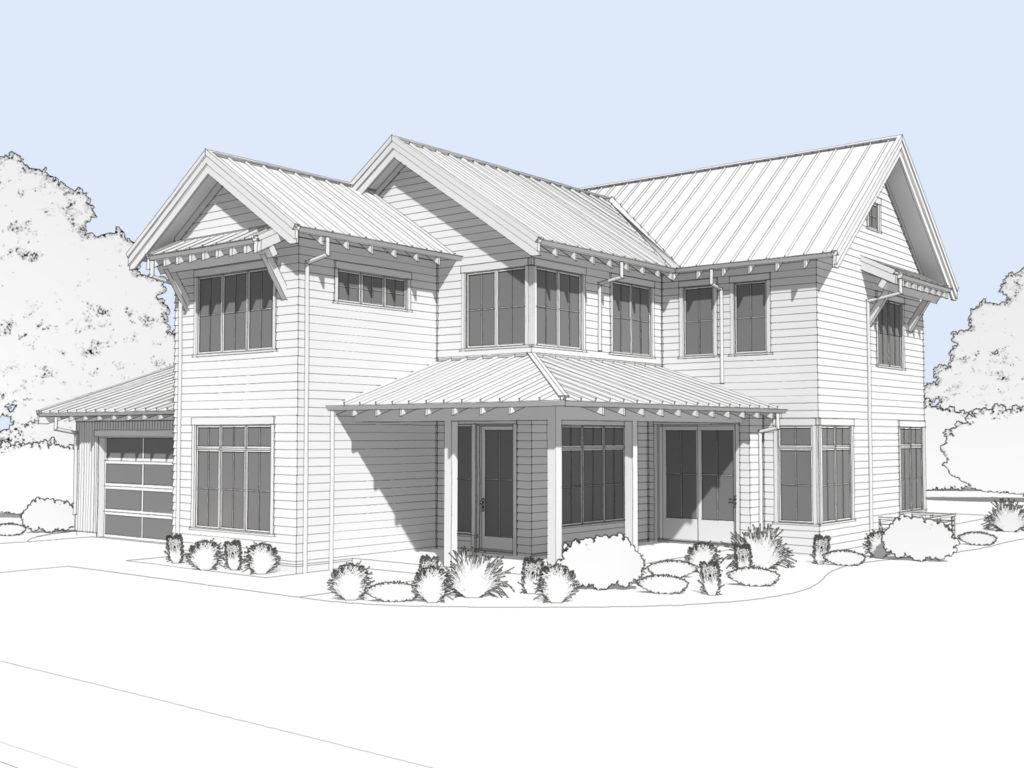 The modern farmhouse style practically defines the late 2010s. This eclectic style borrows from the comfort of shabby chic and country, along with a few useful industrial pieces. The design is far from being pretty but instead is loaded with a look best described as subdued.
When you walk into a modern farmhouse, your first inclination should be to sit down and enjoy a cup of coffee. There shouldn't be much that makes you want to milk a cow or hoe a garden. The style is filled with white paint, overstuffed furniture, barn doors, and a ton of shiplap. All of the pieces should be well lit, with industrial-yet-eco-friendly Edison bulbs powering the way.
Click here to learn about other House Styles.
All the Shiplap
One name is tied inexorably to modern farmhouse style: Joanna Gaines. The interior design celebrity uses white paint, substantial kitchen islands, farm sinks, reclaimed wood floors, and shiplap paneling.
Shiplap was relatively unknown to the design world until Gaines began putting the paneling on the walls of homes in Waco, Texas. The horizontal paneling has become the calling card of Gaines' work.
The use of shiplap adds the country element to the modern farmhouse style. Ideally, designers should use reclaimed wood, not newly manufactured pieces. The planks should look like they came from an old wooden ship, thus the name. When placed on the wall, shiplap gives homes a cottage-like style that harkens back to shabby chic.
Shabby Chic Visits the Farm
Grunge and the 1990s are forever tied together. But, the 1990s was also the era of Shabby Chic. This style was all about white slipcovers, floral chintz, milk glass, and distressed wood. Think of the fuss of Victorian, but with comfortable furniture. Grunge may have only lasted for a few years, but Shabby Chic remained popular through the early 2000s.
The style was developed by Rachel Ashwell, who, like Joanna Gaines, built a home-design empire. Ashwell had her own television show. She taught viewers how to fill a vase with floppy peonies, age a new piece of furniture, and how to find unique pieces at a flea market.
The modern farmhouse style and shabby chic have a few similarities. They include vintage wood paneling, white paint, and comfortable slipcovered furniture. They do have two significant differences. Shabby chic has a bit of fussiness to it, with ruffled bedding, knick-knacks, and romantic antiques. Modern farmhouse has no fuss; it relies on clean lines and very few things to dust.
The decorative objects in a shabby chic home included items like tea sets, pink vases, rhinestones, and doilies. The decor in a modern farmhouse includes ceramic jars, galvanized steel faux farm implements, and script signs. Shabby chic was all about pretty things all over the place. Modern farmhouse decor is all about statement pieces.
Interestingly, shabby chic fell from favor when the financial markets crashed in 2008. Fussy extravagance was out, and shabby chic decor was pricey. The modern farmhouse style came into favor when the markets started to recover around 2015. They both are styles that lend themselves to DIY, but the modern farmhouse style was much less expensive to accomplish.
Where Modern Fits In
Designers tend to attach the term "modern" to mid-century pieces, like the minimal pieces from Herman Miller and Charles Eames. It is not uncommon to see some mid-century-esque pieces of furniture in modern farmhouses. The most common location: the kitchen. Consider the look of a large wooden country-style dining table surrounded with Eames-inspired DSW shell chairs.
On the outside, the modern farmhouse plans include a few elements that harken back to the mid-century styles of the 1950s and 1960s. The farmhouse look is still there, but with horizontal features that look modern. Farmhouses often have horizontal natural wood featured as porch railing.
Both styles also have noticeable angles that are slightly exaggerated. Farmhouses have more angles than mid-century homes, but they are both designed to catch the eye and draw it to the front door. Both designs nix the fastidious details like turned posts or gingerbread trim. The two styles are sparse.
The Practicality of Modern Farmhouse Style
Farmers kept things around them that were useful. This is the inspiration for the modern farmhouse style. When you decorate your home, you don't have to put farm tools inside your home. Instead, you use furniture that people find comfortable and relaxing. None of grandma's fussy parlor furniture in this style.
But, before you start buying furniture and decorating your home, take a moment to look at your space. Notice the natural light and where your built-in lights are. Think about how you want people to walk around the room. Consider where you want to put your furniture so that people will use it. If they cannot see the TV, will they sit in it?
The practicality of this style is that the furniture is the focus. Knick-knacks and thingamabobs aren't. Modern farmhouse style is not fussy. It is utilitarian, yet comfortable. You should not ever feel overwhelmed by the things in the room.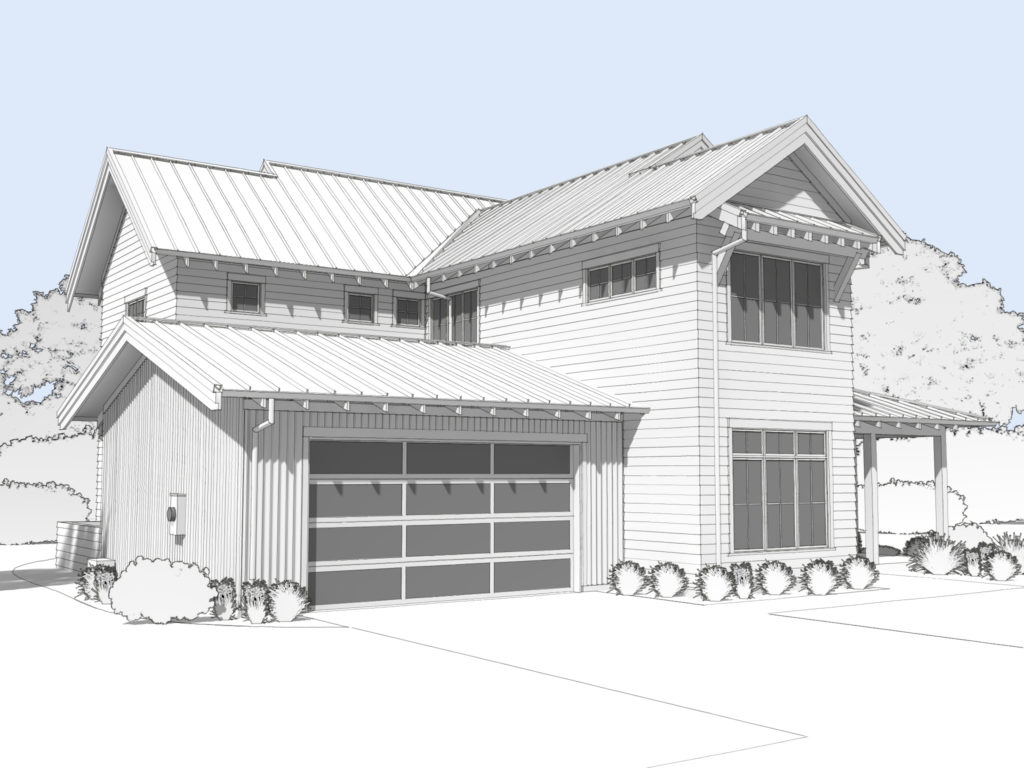 Neutral Tones Rule the Roost
Modern farmhouse design is far from the country look that included barn red, sage green, and mustard yellow. They are also different than mid-century modern colors like avocado green, ochre, and mosaic aqua.
Instead, the colors are clean, fresh, and neutral. In most modern farmhouses, the go-to colors are white, beige, and shades of grey. A popular color is one called "greige" – which is a taupe-grey usually paired with white trim.
Interestingly, many modern farmhouse designers might use a subtle pop of color in a few unexpected places. Maybe they have misty blue bar stools at the massive kitchen island or a medium blue on the front door. Most homes have a bit of black on storage elements, the kitchen table, or on the light fixtures to ground the space.
Exterior colors on the modern farmhouse are rather simple. The trim is black, and the body of the home is white. Some homes have natural wood posts, accent siding, or trim, so medium to dark brown colors are also common. Front doors and garage doors are usually black, blue, or brown.
Choosing Your Furniture
The old-school farmhouse furniture design was filled with wood and fussy fabrics. Kitchen tables had turned legs and were surrounded by ladder-back or Windsor wooden chairs. Wing-backed chairs and sofas with skirts were popular. Country furniture was covered with checkered fabrics, and windows were covered with ruffled curtains.
In a country home, furniture matched from the elaborate turns of the legs to the colors of the upholstery. Unfortunately, not all of the pieces were comfortable, especially pieces in the formal living room. This is not the case with modern farmhouse style.
When selecting furniture for a modern farmhouse, function and comfort are key. Modern farmhouses do not have formal living rooms. They have kitchens, open-concept rooms, and kid-friendly spaces. The fabrics are solid and neutral.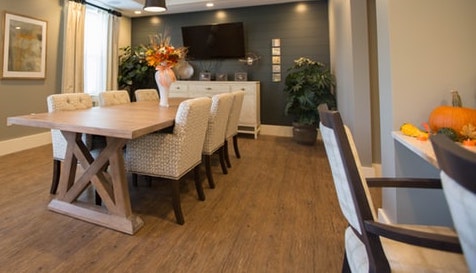 The wooden pieces usually have simple legs and are either distressed or dark in color. Some of the wooden pieces might be painted black, white, or gray. Pieces that are painted often have a stained element, too.
Many of the furniture pieces involve metal, too. For example, metal bar stools are commonly found in modern farmhouses.
Most modern farmhouses do not have curio cabinets or other places that are used to display tchotchkes. But, if you have meaningful trinkets to show off, you put them on functional furniture pieces, like a buffet or a wall shelf.
Eclectic furniture is the key to modern farmhouses. While you can pair a mid-century kitchen chair with a rustic table, you might not want to have an atomic sofa with an industrial coffee table. Mid-century upholstery isn't as comfortable as modern furniture. Therefore, many homeowners choose comfortable family room furniture that looks like it has been slip-covered.
Modern farmhouses can have leather furniture, too. But, the leather furniture should not be sleek and European. Instead, it should be comfortable, like a chesterfield or a sectional in shades of rich brown, white, or warm gray. Mix leather with comfortable fabrics, too.
Don't Forget Industrial Elements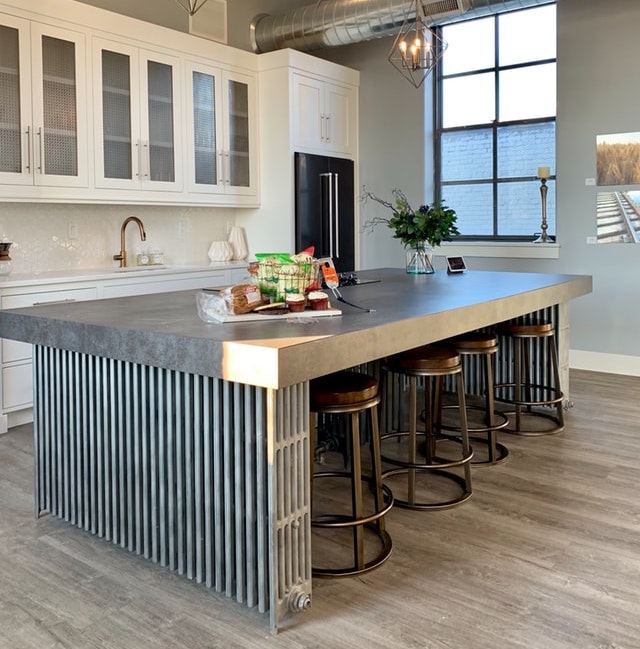 After adding furniture, the next steps are to add the useful features. All homes need to have light fixtures, and this is a perfect place to include industrial elements. Light fixtures made of galvanized steel are almost as ubiquitous as shiplap. If light bulbs are exposed, they are often the Edison style with the noticeable filament.
Barn doors might seem like pure farmhouse style. But, with rustic hardware, they look more industrial. When Joanna Gaines designs farmhouses, she tries to find industrial farming elements that she can use as storage features. Some she turns into light fixtures or planters or other functional pieces.
Kitchens in the Modern Farmhouse
When designing a new modern farmhouse, kitchens must be considered. The modern farmhouse kitchen should be functional, comfortable, and eclectic. The cabinets are often in two colors, one on the top and a different on the bottom. For example, the hanging cabinets could be white, while the base cabinets are black.
Some modern farmhouse kitchens have shelves on top and cabinets below. The shelves offer owners a place to show off their collection of white dishes. But, some homeowners have cabinets with glass features instead. The most common cabinet style is shaker as it is simple and modern.
The modern farmhouse kitchen tends to have a few essentials:
Shiplap accent wall
A massive island
Industrial hardware
Stainless appliances
Exposed wood beams
White, marble countertops
Distressed floors
Large, industrial light fixtures
Subway tile
Farm sink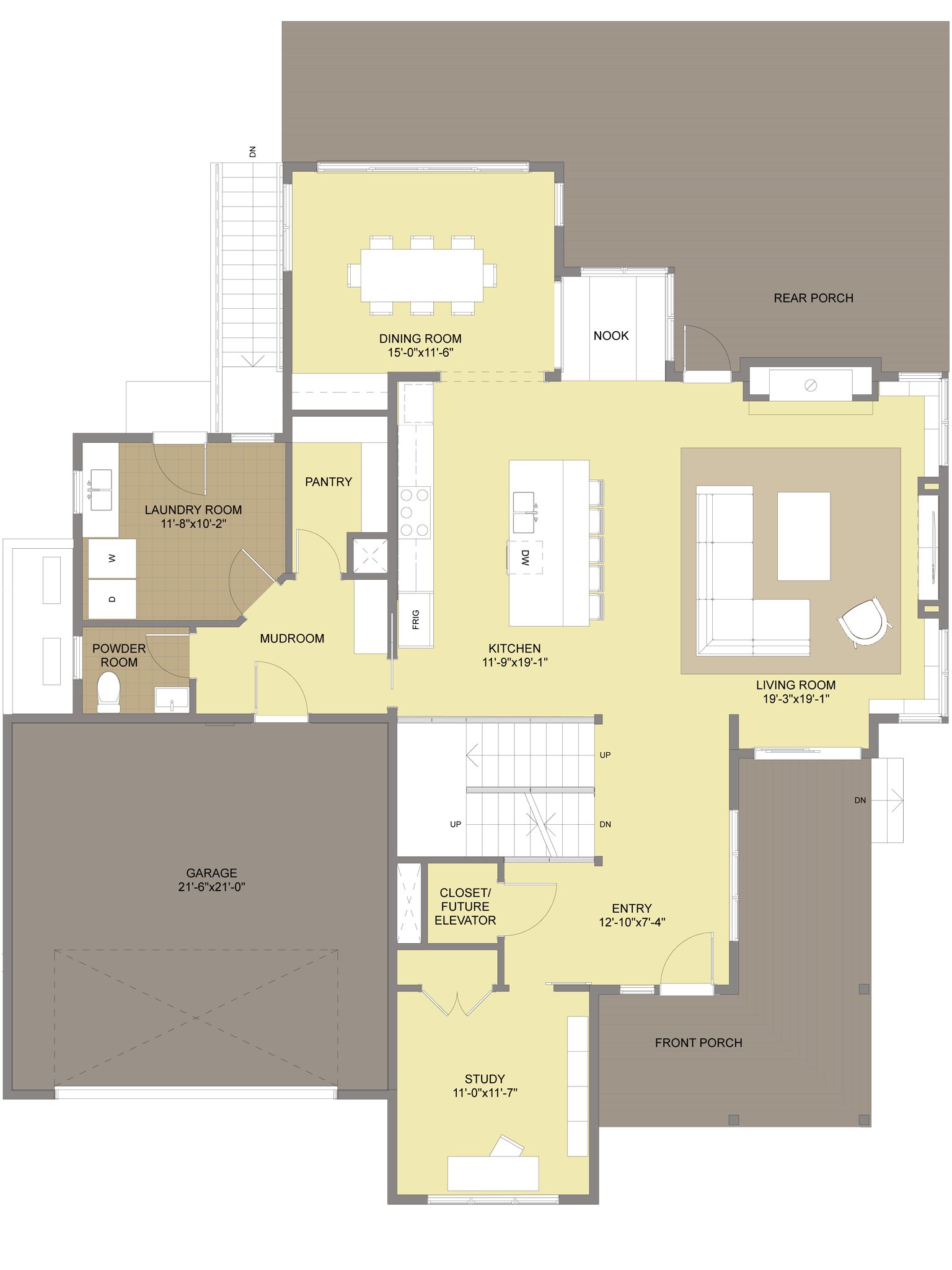 Big, Big, Big
The kitchen in a modern farmhouse is one of the largest spaces in the house. When Joanna Gaines remodels homes in Waco, she tends to have Chip Gaines remove walls in the kitchen. Everything in the kitchen is big, including the countertops and light fixtures.
In a big modern farmhouse kitchen, adding a farm sink is practically a rite of passage. Traditional sinks fit into the countertops, and all that shows is the lip around the top. A farm sink has an apron that sits flush or extends a bit from the cabinets. They usually come in white ceramic, stainless, or copper.
The big farmhouse sink sits deep and usually has one large bin. They look great with big, industrial faucets that coordinate with the cabinetry hardware.
Light Fixtures and Countertops
Light fixtures in the kitchen are usually pendants, with plenty of glass, galvanized metal, or iron. There are usually one or two over the island, which is often covered with a huge slab of white or black marble.
The countertops over the cabinets are either the same color or the opposite color of the island. Most islands are surrounded by bar stools, encouraging people to sit and chat.
The Floor Anchors the Space
While countertops and cabinets are usually white or black, the floor is often distressed wood in darker stains. The floor anchors the kitchen, and accents the cabinets and island. Wall shelves are also often big slabs of distressed wood, too.
Horizontal Elements
Backsplashes should be simple, and functional. Subway tile, with pleasing horizontal lines, adds to the grand size of the modern farmhouse kitchen. To enhance the horizontal lines that look modern and comfortable, you need shiplap somewhere.
Shiplap is usually placed on one wall, often the wall with the most open space on it. But, some homeowners use shiplap on the island or on the backside of countertops, where bar stools get placed. Shiplap could also get placed on the ceiling for an updated take on the comfortable style.
Industrial and Modern Hardware
Eventually, homeowners have to pick their hardware. This is an area where industrial design or mid-century modern can come into play.
Drawer handles can be sleek in an industrial metal or bulky in oiled black. They should fit your style as you will be using them every day. There is nothing wrong with mixing hardware, with one design on the top cabinets and another on the bottom.
Moderation is the Key
When comparing modern farmhouse to other country-farmhouse styles, the key to the newest version is restraint. The spaces are not fussy and overwhelmed with cluttered design. The style isn't completely minimalistic, but DIYers are encouraged not to go overboard with useless elements.
When designers use restraint in a modern farmhouse, the result is relaxed luxury. Modern farmhouses skip the ruffles and gingham and look at sleek, useful finishes instead. If the look becomes heavy-handed, it loses the modern style and looks colonial or primitive country instead.
Rather than knick-knacks, the design features are the imperfections of shiplap, distressed wood, and neutral colors. The charm comes from the simplicity of the comfortable furniture and the juxtaposition of the industrial accents.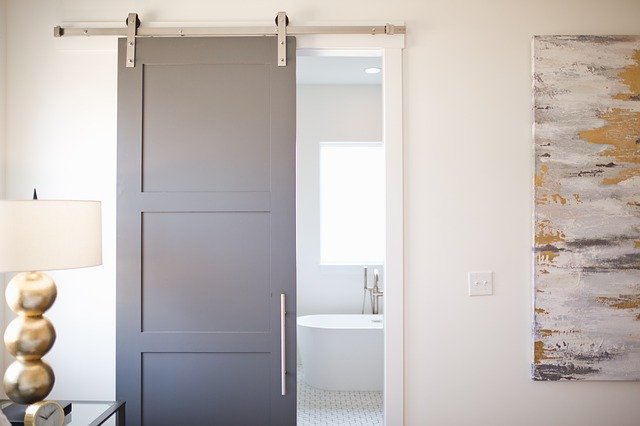 What to Avoid in Modern Farmhouse Style
Even though this style is all about functionality, don't become too literal. The Mason jar is often overused in this style, but not as canning jars. If you must have vintage kitchen elements, turn to cast iron pots and pans, or turn an old industrial fan into a light fixture.
Shabby chic distressed wood furniture or slipcovered sofas are significant elements to use in a modern farmhouse. But, stay away from authentic shabby chic, especially fussy florals, romantic doilies, or pink heart-covered decor. Modern farmhouse style should not look like you borrowed it from your grandmother's house.
Finally, you should also avoid using ironic props on the wall. Some people think that they need to cover their walls with big farm tools. While your walls don't have to be bare, you shouldn't cover them with items that aren't sophisticated or distract from the beauty of your furniture and flooring.
Overall, the key to successfully using modern farmhouse style is to embrace the comfort and modernity. When you do this, you get to live in an uncluttered home with relaxing furniture, interesting accents, and soothing colors.
https://thebungalowcompany.com/wp-content/uploads/2016/11/THE-MT-ADAMS-FRONT-RIGHT-e1479158345311.jpg
768
1024
Bungalow Company
https://thebungalowcompany.com/wp-content/uploads/2013/12/BungalowCompanyLogo.png
Bungalow Company
2020-04-01 13:56:40
2020-04-01 13:56:40
Modern Farmhouse Style