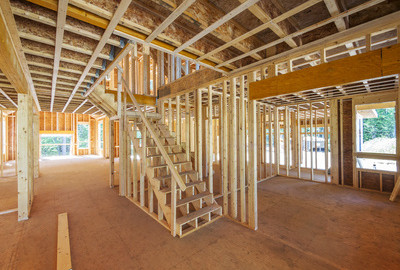 7 Steps to Building Your Own Home
Many people dream of building their own home, but when it comes to taking that first step, a move-in-ready home can seem more appealing than embarking on the sometimes lengthy journey of building a new home. With the right research and careful planning, though, anyone can engage in the exciting and fulfilling task of building a home from the ground up.
First, map out your dream home, and be specific.
Ask yourself: what do you want in a home? Do you want a sprawling castle in the country, a charming Bungalow, a super energy efficient micro home or something totally modern and eccentric? Make a list of the details you envision for your home. Create a grand vision that includes all the bells and whistles you want in a house.
Ask yourself specific questions: What kinds of features do you want your home to have? Do you want a big fireplace? Energy efficient appliances? Classic architecture? Vaulted ceilings? What kinds of window styles are your favorites? From fixtures to flooring and from eco-friendly features to landscaping, consider every detail. Think about the homes you've admired and try to come up with the perfect combination of dream-qualities in a home.  Having a clear vision will help you move toward something tangible and satisfying.
Determine your budget – and pad it amply.
Set your budget early and pad it for the inevitable changes and mishaps that may occur. Try to consider everything you will need, from the land purchase to taxes and fees, the home itself and all interior decoration and landscaping. And be prepared for changes that may bump up the price of the project.
Choose the best location for your home.
You know what they say: "location, location, location." Building the right house is just part of the process. Your new home's perfection begins in your purchase of the right land. Make sure the land is situated in or near a town that matches your pace of life and interests. Visit the town hot spots, meet some people. Check out the schools if you have kids. When you've settled on one or two locations you like, start researching available land options. And when you are choosing the land itself, make sure it is good. Don't select anything that has tricky legal complications connected to it, water issues or other problems that will complicate the project down the road.
Find the right people who can help you realize your dreams.
Put together a qualified team, from the designers and engineers, to builders and their subcontractors, to interior designers. Check references. Look at work samples. Do your homework and you'll likely be satisfied with the team you've assembled. (For an in-depth discussion of how to hire a builder, click here for our ebook.)
Get ready to put your heart into it.
People don't build homes because they want something easy and move-in-ready. Building a home is an adventure and a commitment. It is work, and it is fun. But it can also come with some bumps in the road. Get ready for lots of phone calls. Pay attention to the details along the way and make sure you are ready to trouble shoot. Nip small problems in the bud so they don't blossom into big problems further down the road. Plan, discuss, advise and be ready for anything.
Be flexible.
It's great to have a grand vision of how you want things to be. But when little changes need to be made, when contractors don't work out, when a certain design concept doesn't look quite right in reality, that's when you need to be ready to come up with new ideas. Being flexible will save you the heartache of having rigid plans fall to pieces before your eyes and will leave you open to new, exciting ideas you might not have imagined when you first started planning.
Have fun!
Building a home is an adventure – one that will have satisfying and memorable results. The house of your dreams won't be move-in-ready instantly. It will require a commitment and work. But soon enough, you'll be ready to move in and enjoy the fruits of your labor. You will never forget your house building experience. And, if all goes right, you will have a home that you truly put your heart into — a home that will last for many generations.
https://thebungalowcompany.com/wp-content/uploads/2014/01/7-Steps-to-Building-A-Home.jpg
300
400
Bungalow Company
https://thebungalowcompany.com/wp-content/uploads/2013/12/BungalowCompanyLogo.png
Bungalow Company
2014-02-11 18:00:19
2014-12-31 18:50:53
7 Steps to Building Your Own Home