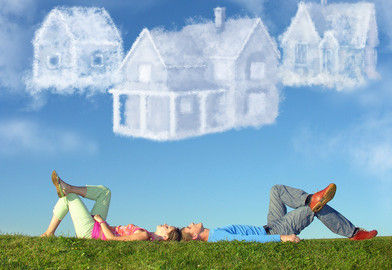 The Difference Between a House and a Home


Recently a friend of mine asked if I'd go with him to look at a house he was interested in buying. He and his wife had just divorced and sold the house they'd shared for 15 years, and he was taking his half of the profits to shop for a fresh start.
The house he was considering was a small ranch built in the 1960s with a tiny yard in front and a somewhat bigger yard in the back. Upon entering I was immediately sucked into a ferocious time warp: the house had very obviously not been altered since the day the first owners moved in over 40 years ago. My eyes drifted across a sea of orange and green. The wallpaper was orange and green. The paint and carpets were orange and green. The kitchen was, you guessed it, orange and green with, it appeared, the same appliances that were originally installed.
Now my friend isn't a very handy man, nor is he a very patient man, so I couldn't see him spending months himself (or hiring someone) completely gutting and renovating this house. I just couldn't understand why he was so in love with it. And then I watched as he excitedly showed me the walk-in pantry, which not every home on the market has. I had heard him tell me many stories over the years that included the pantry in his old house; stories about the pantry doorframe marked with the kids' growth spurts, stories about he and his wife hiding presents from Santa in the pantry and about the time their German Shepherd Schatzi gave birth to her litter of pups in there. As I listened to my friend wax poetic over the perfect number of shelves this pantry had, I instantly understood. He wasn't looking for a fresh start, he was looking for home.
When you buy or build a house, you're not paying for land and lumber, you're paying for the promise of a new way of life. Or, in the case of my friend, you're paying for the promise of an old way of life; for a time when life seemed simpler and relationships more harmonious.
A house is a building, but the moments created by the family living there are what make it a home. I'm reminded of this truth by clients all of the time. Someone will call and request we make custom changes to one of our designs, and sometimes these changes go completely against the aesthetics of the original design and the Bungalow style.
After asking a series of questions, I can usually tell if these custom changes are emotionally-based or not. If they're not, I gently try and shift the person's thinking and offer a suggestion that will give them what they need to satisfy their needs yet still retain the integrity and beauty of the Bungalow style.
If these custom requests are clearly coming from an emotional place, if the changes will obviously add value to their emotional lives, I may guide the client as far as aesthetics, sizing and layout, but I essentially give them exactly what they want. My job is not to make sure our designs are never compromised. My job is to give my clients a home – period.
So what's the difference between a house and a home? I think it's the same difference as between a pair of dress pants and a pair of old jeans. Both will keep you warm and out of jail for indecent exposure. But the similarities end there. The pants are kind of stiff and tight, they ride up when you move a certain way, they just don't feel all that great on you.
But a pair of worn jeans… ah, those feel like a second skin on you. You've worn them for many years and broken them in just how you like them. They're soft, fit perfectly, and you never want to take them off. The pants are just something you wear, but the jeans make you feel good.
Houses are just wood and brick and glass, but homes are where we feel our lives.
https://thebungalowcompany.com/wp-content/uploads/2014/01/Difference-Between-A-House-And-A-Home1.jpg
306
392
Bungalow Company
https://thebungalowcompany.com/wp-content/uploads/2013/12/BungalowCompanyLogo.png
Bungalow Company
2014-01-28 23:35:15
2014-02-15 01:38:45
The Difference Between a House and a Home