To recognize Craftsman style house plans, it helps to understand their exterior anatomy and interior elements as well. In the diagram below you'll find the typical elements of Craftsman Bungalows: windows and door trim, columns, roof, siding and windows (click image to enlarge):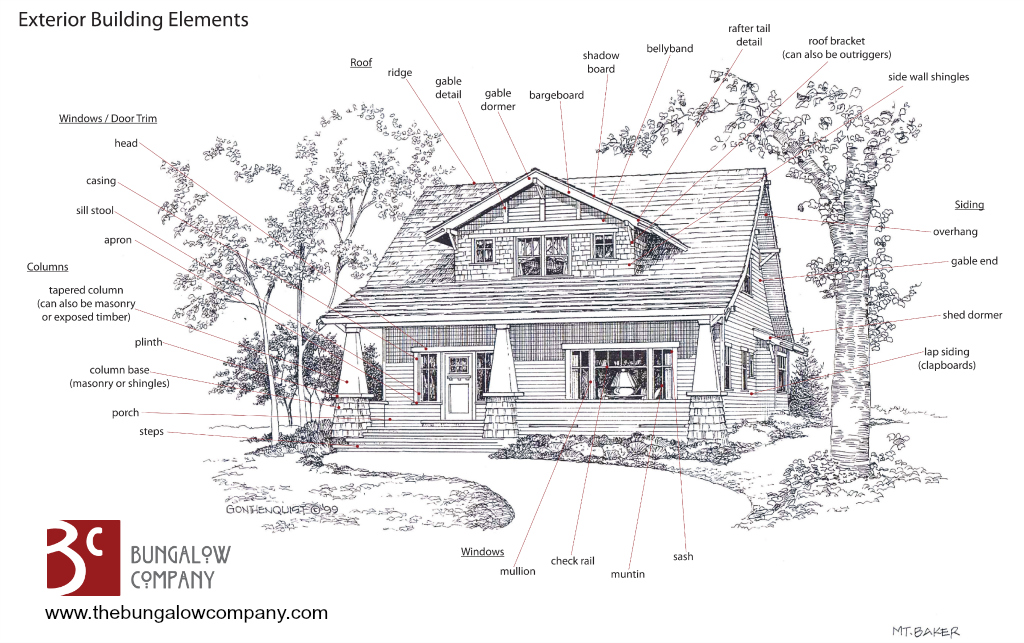 Growing out of the earth, the Craftsman Bungalow is an extension of its natural surroundings. The Bungalow is a reflection of indigenous wood and stone, and with time, integrates itself with the surrounding landscape. As the landscape matures and the house shows signs of wear, the house and the site appear as one. Initially, new homes feel stark on the site – so by encouraging the embrace between building, landscape and gardens, the structure will integrate over time.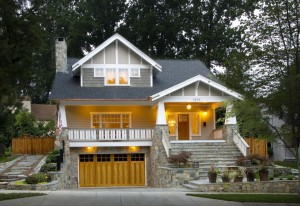 Craftsman Bungalows were built on rock foundations, or coursed with brick above finished grade. The use of more durable, indigenous materials at the base of the building creates a more natural transition between the land and the built environment. Modern construction methods include building homes on reinforced concrete foundations that can be veneered with masonry or parged with cemented plaster to build a connection between earth and home.
When the garage is accessed from the front of the home and below grade, it creates an auto court of indigenous rock which allows for a durable solution for the car-to-house transition. To do this you can incorporate site stairs from the auto court to the porch of rock and cut stone treads.
Craftsman style house siding is often composed of clapboards and cedar shingles, however, in some specific regions, brick or stucco is common. The Craftsman Bungalow is truly an architectural chameleon, adapting its universal architectural form to work with regional building techniques, traditions, environmental conditions and personal expressions. Craftsman Bungalows are generally 1 story to 1 ½ stories and are likely to change materials at the water table, eave line and the transition between the floors.
In situations where the Bungalow stands 4 to 6 steps off the natural grade, shingle or lap siding would be used. This transition of materials was normally separated with a water table this is a milled piece of wood designed to shed the water from the wall plane above and create a horizontal band on the building which then reinforces the horizontal massing of the building.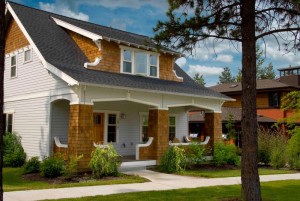 Material change between floors is accomplished by building up multiple courses of shingles that generate a shadow line. This gives the shingles the appearance of floating while visually lightening the second story. Building up the bottom course of shingles forces water to the outside of the building, and sheds it to the ground, reducing the tendency of the water to migrate behind the wall and damage the structure.
Alternatively, a belt band or belly band may be used to make the horizontal transition between siding materials.
Belly bands and belt bands are constructed of 1x to 2x material and many times have a sloped and profile molding on top which aides in shedding water. Belly bands can be used both at the base of the building, in lieu of the water table, or at any other horizontal material change on the building.
Lap siding, or clapboard, is installed with 3 to 6 inch exposure and either terminates into corner boards at the outside corners, or is mitered. Mitered corners are very common in traditional Craftsman style house plans; however this detail is highly susceptible to water damage. Newer composite materials are not able to be mitered but provide metal corner transition caps that are still not water tight.
Unique to Bungalow and Prairie-style homes, lap siding and shingles are commonly installed with alternating patterns. An example of this would be two clapboards at 3-inch exposure and three clapboards at 5-inch exposure, producing a repeat pattern of five.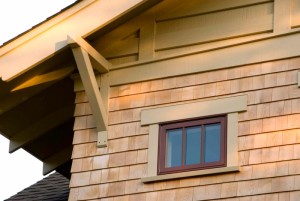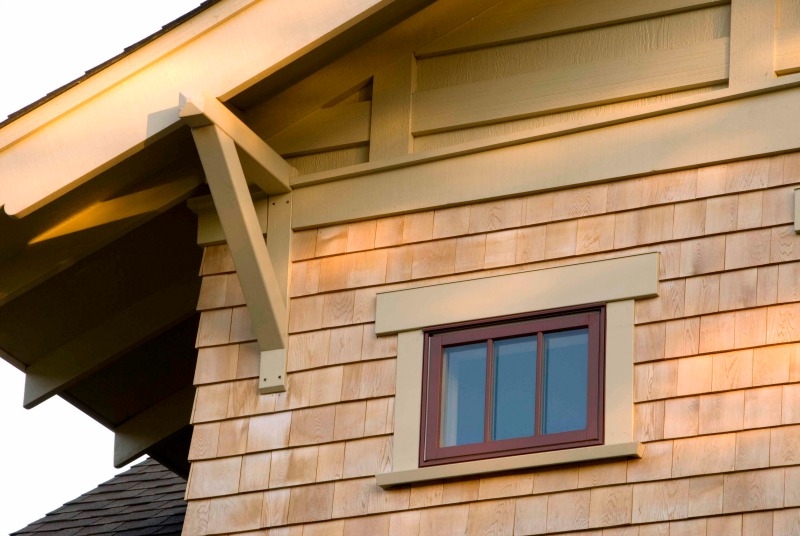 In hot climates, attic and roof ventilation was incorporated into gable ends. Gable-end vents were openings in the structure covered with screens to protect the home from insects. The screened openings were covered with decorative lattice work which provided an additional pallet of detail.
New Bungalows are commonly vented from the roof at the eaves with a vented freeze block and again with a continuously vented ridge. Incorporating lattice work in the gables breaks down the overall scale of the building and produces elegant shadows.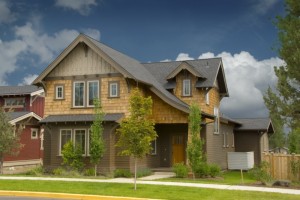 Bungalow roofs are made up of several integrated roof forms. Multiple roof forms reduce the overall mass of the building while establishing visual interest.
One and a half story Craftsman Bungalows create rooms under the shelter of the roof which allows the roof forms to read through to the interior.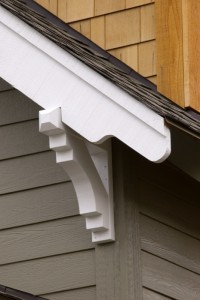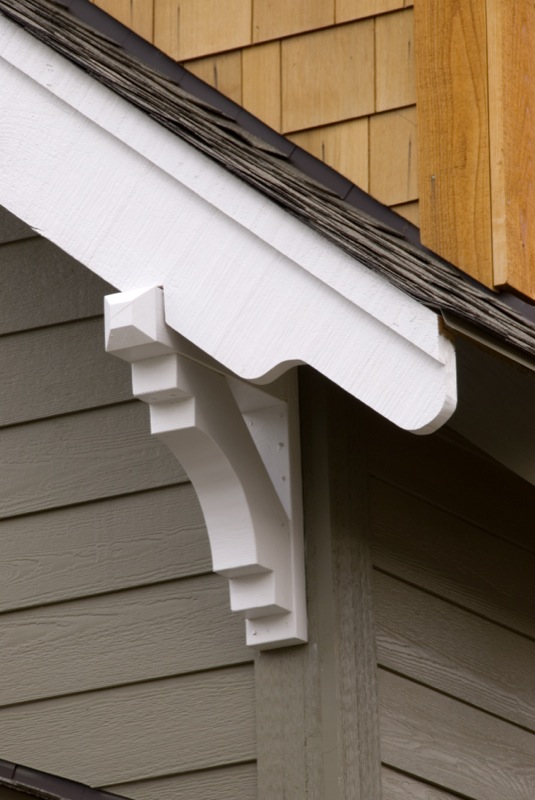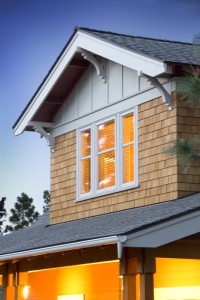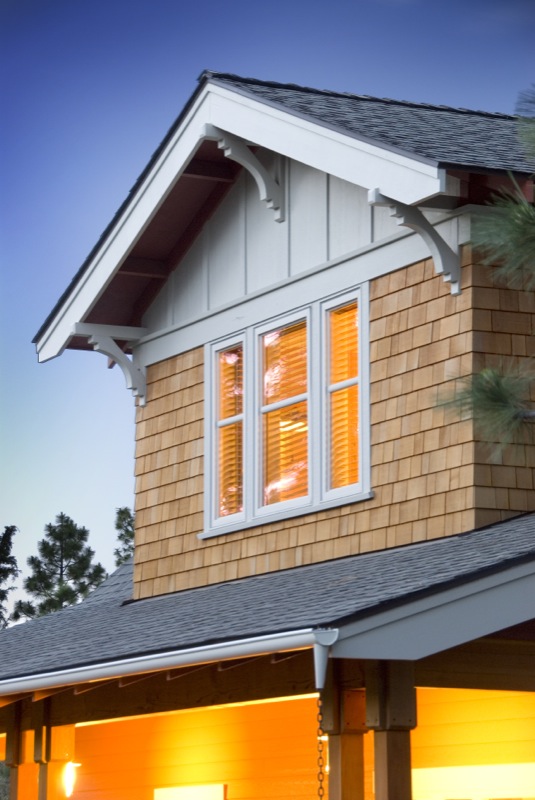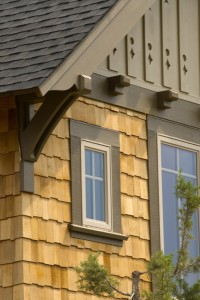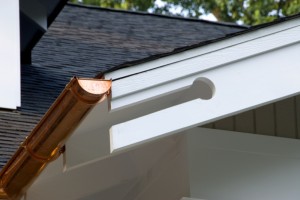 Roof gutters were originally wood and cut into the rafter tails for support. 5 inch ½ round gutters made of formed aluminum or copper are more common in modern construction. Often round down-spouts are replaced with metal chains which tie to concealed drains. The chains are allowed to patina and reinforce the Bungalows connection with nature.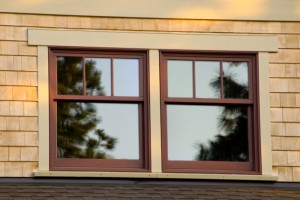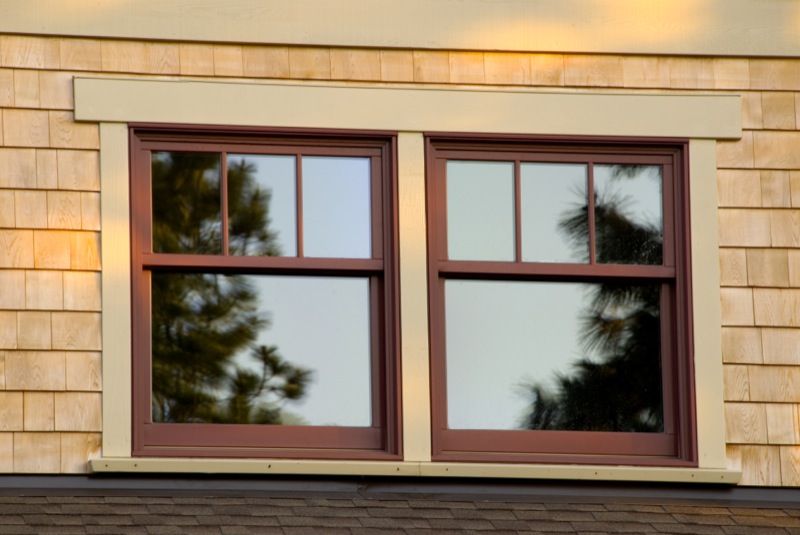 Historically, Craftsman style windows were primarily double-hung wood windows that slid in wood tracks and used cylindrical window weights hung from hemp sash cords to counter balance the operation of the window. Windows were proportioned using a cottage sash configuration. Cottage sash simply means that the top sash of the window is approximately 1/3 of the overall length of the window. The top window sash contains a variety of horizontal and vertical mutton divisions to create a decorative pattern in the top sash. The lower sash is longer and consists of a single pane of glass.
High windows flanking a fireplace or over a dining room buffet might be leaded stained glass windows. Leaded glass transom windows were incorporated in the front elevation of the Craftsman Bungalow as a design element. Casement windows were less prevalent but were occasionally integrated in kitchens, bathrooms, and closets.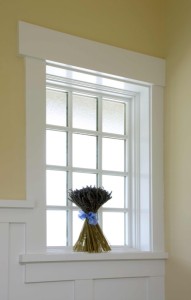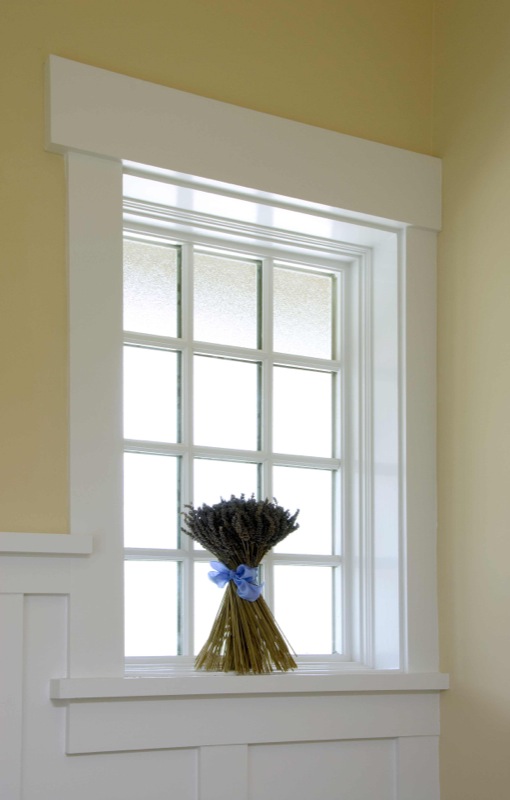 Modern windows are still constructed of wood but are often clad with vinyl or aluminum. Vinyl windows are the most inexpensive and are, in general, limited to four colors; these are primarily white or tan, and occasionally can be purchased in green or bronze. Vinyl windows are considered to be low maintenance; however, they are susceptible to sagging in the heat, and cracking in the cold. Few vinyl windows have an operable top sash — this is counterintuitive when trying to vent hot air from a room or to cross-ventilate. Aluminum clad over wood, and vinyl clad over wood, both make removable sashes and provide a traditional wood window interior which is a key element in designing a traditional Craftsman style interior. Aluminum clad windows come in a variety of colors and are probably the most durable of all production windows.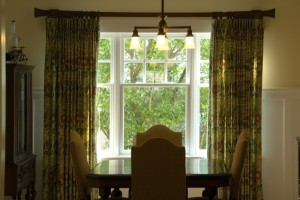 Windows are one of the most important decisions when building a new home and are key elements in creating a traditionally-inspired Bungalow. Windows and doors are literally stitched to the exterior with layers of flashing and decorative trim; they are attached from the inside with fine wood work and interior finishes. Therefore, an investment in high quality windows is suggested – they will help to conserve energy and to increase the longevity of the home.
Masonry porch column bases root the porch to the site, while expressed timber, or tapered wood columns, connect to corresponding lintels that modestly support the roof. It is common that the porch roof be constructed of multiple roof forms, but the entry is highlighted with a gabled roof. The front door is generally centered beneath the ridge and is flanked with windows or a sidelight of decorative or leaded glass.
Smaller Bungalows will be organized with a single door and more modest porch. Porch railings consist of both half-walls and siding, or decorative patterns cut into more substantial wood timber. Brick Bungalows use brick coursing or rock for a masonry lattice that separates the porch from the street. Railings of either wood or masonry are substantial enough for visitors to sit and converse.