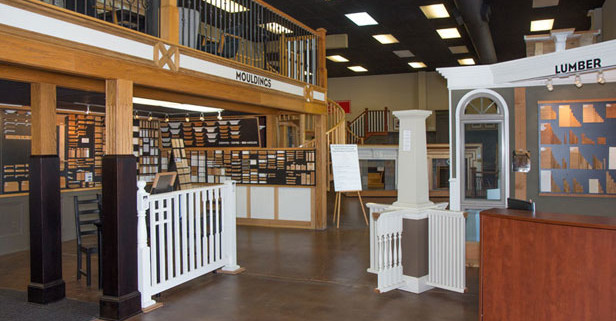 10 Questions for McCoy Millwork's Juli Wales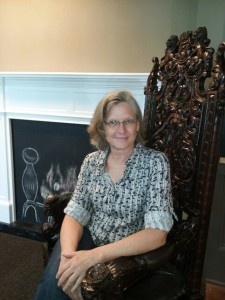 When you're looking for the highest quality millwork, McCoy Millwork is a wonderful choice. And at McCoy they do so much more: mantels, custom staircases, exterior porches, etc. If you can dream it, they can do it.
We sat down with Juli Wales of McCoy to learn more about this amazing Portland, Oregon company that opened its doors in 1946.
1. How did you come to work for McCoy Millwork?
I discovered McCoy Millwork while in the midst of a repair project on my 1928 home. During this time I was working at home as a full time Mom. When I was ready to return to work outside the home I found McCoy Millwork hiring. My training in interior design and my computer skills have served us both well so far.
2. What are some noteworthy aspects of McCoy Millwork that make it stand out in the marketplace?
Oregon homes built in the late 1800's and early 1900's are typically trimmed in mouldings and lumber made of fir. Mixed or flat grain fir continues to be a popular lumber choice in restoration and new construction; it's particularly beautiful when used for mantels and wainscot. Vertical grain fir with its beautiful tight grain pattern and lovely color is still in demand. Our selections in fir are the best around. Also, a few years ago we developed a Craftsman series of mouldings; this series is complete trim package with selections available base to crown as well as stair parts and mantels.
3. What are some influences of McCoy Millwork products.
McCoy Millwork was founded in 1946 in the Portland Metro area. We have always been influenced by the homes built in this area and strive to provide historically accurate materials that help our customers restore and revive these beautiful homes. However, good taste is always in style! Our mouldings are just as beautiful in a new home as in a restored one.
4. What are a couple of distinctive ways that people implement your millwork in their homes?
Our custom mantels are made with our stock trim pieces; a homeowner can coordinate an entire trim package with us. Additionally, our custom millwork shop has allowed us to help our customers in their quest to restore an older homes with unique trim pieces.
5. Anything exciting that has happened with McCoy Millwork recently?
A little more than a year ago we upgraded our shop by purchasing a shaper. Now, in addition to our shop services like sanding, ripping, and slight modifications to existing product, we produce some of our stock mouldings and custom mill moldings for customers looking to match unique and vintage profiles.
6. Can you give us a sneak peak or hint of anything that's coming?
White Oak – another favorite of craftsmen in earlier days. We are seeing more requests and orders for white oak lumber, stair parts, mantels and moulding. While white oak mouldings are a bit hard to come by on the shelf, our shop can mill our in stock, domestic, white oak lumber into the moulding of your choice.
7. At The Bungalow Company, we strive to hold to the character and philosophy of period designs, but update them for how we live today. Would you say that McCoy Millwork shares this aim?
Many of the mouldings and trim styles we sell are historically accurate. That said, the sustainability movement has greatly impacted the wood products industry. Trim pieces traditionally moulded from solid wood are available in three wood variations produced in a process that uses the entire tree. For an example; a crown is still available in solid wood but after milling a solid wood crown the pieces rejected as too small are used to create the same crown in a Finger Jointed material. Thirdly, saw dust is combined with binding agents to create MDF or Medium Density Fiberboard that is milled into the same crown. What was once considered waste material is now used in production giving consumers three product choices which include two economical options.
8. New Bungalow Company customers are about to build a new home. What advice would you give them before they start construction?
While you're in the planning phase take some time to visit a quality millwork supplier. There is more selection out there than you might realize. A retail supplier that specializes in moulding will have catalogs or recommendations for web sites you can visit with more selection than can be seen in any showroom. Bring photos of rooms and styles you like with you. It may take some detective work or custom milling, but anything is possible. If you go this route remember the answer to #9 – it's important!
9. What is a key mistake that people make when choosing millwork for their homes?
There are a lot of millwork choices available; the products you see in stock at most home improvement stores reflect a very small fraction of what is available. Hardwood mouldings in less common wood species, larger profiles, selections deemed less "popular" and custom mouldings will most likely entail special ordering. If you are choosing product that is not in stock allow time for production and shipping; three to four weeks is not uncommon.
10. Are there specific services you offer that we should know about?
Fireplace mantels! We have eight full surround and six shelf mantels, predesigned and ready to order in the size and proportion dictated by the target fireplace. These mantels are "template" mantels, in that the style and trim is predetermined. We can also help you design a truly custom mantel using your choice of selected trim pieces.

Visit our web site http://mccoymillwork.com/mccoy-catalog-2/ for a flipbook explaining our mantel program. You'll need to download the book if you would like to print any of the pages.
https://thebungalowcompany.com/wp-content/uploads/2015/10/showroom.jpg
410
616
Bungalow Company
https://thebungalowcompany.com/wp-content/uploads/2013/12/BungalowCompanyLogo.png
Bungalow Company
2015-10-16 02:46:23
2016-10-20 15:40:58
10 Questions for McCoy Millwork's Juli Wales