10 Questions for Colorhouse Paint's Puji Sherer
If you don't know Colorhouse Paint, please let us introduce you. Not only are their paints no VOC (volatile organic compounds) and no chemical solvents or toxic fumes (HAPs-Free), they're also gorgeous! Instead of overwhelming color decks with thousands of choices, Colorhouse has narrowed their selection to fewer than 150 colors. Their promise: No Bad Colors!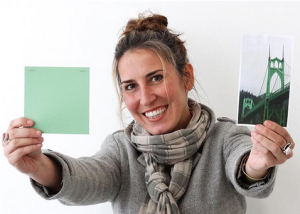 We love how the paints are divided into collections, like the Earth's Color Collection for example. They describe it as, "Warm and earthy tones inspired by nature. 49 harmonious hues designed to be easy backdrops for living. Grouped in the color families of AIR, GRAIN, LEAF, WATER, STONE, CLAY, and PETAL." Click on any color and you'll find suggestions for a harmonious palette including wall color, ceiling, trim and even adjoining room.
We wanted to hear more about Colorhouse Paint, so we asked to interview one of their experts – or 'Color Nerds,' much more fun than 'expert' don't you think?
We're honored that Puji Sherer, Colorhouse Paint's VP of Marketing and Chief Color Nerd, agreed to answer ten of our questions.
10 Questions for Colorhouse Paint's Puji Sherer:
1. You're the VP of Marketing and 'Chief Color Nerd' for Colorhouse, tell us more about that!
My job at Colorhouse is to lead our Creative/Marketing team. I work with our team to design new colors for the company, create the concepts behind the colors and come up with their names (most people's favorite part about my job ;), release our color trend forecasts for each season and the coming year, and generate the content ideas (lots of DIY projects!) for our website, blog, and social media platforms.
2. Do you have any childhood memories of yourself – interests or activities – that you now see as clues to the work you do now?
I come from a family of artists and designers, so creative expression was always encouraged! I have been drawn to putting unique color combinations together since an early age – from choosing the embroidery floss colors for my cross stitch patterns to mixing colors together on my Crayola watercolor paintings.
3. What is the Colorhouse company mission?
The Short version:
Colorhouse is committed to making the world more colorful and less volatile by creating products that are safer for your home and better for our planet. Our harmonious color palettes inspire the artist in you.

The Long version includes:

We believe in COLLABORATION.
We are connected to our community as artists, environmentalists and a woman-owned business.

We believe in CREATIVITY.
The world is more fun in color – we are committed to inspiring the artist in you.

We believe in SUSTAINABILITY.
We are passionate about finding a greener way. We bring environmental and social values to the workplace.

We believe in INTEGRITY.
We strive to create quality products, respect people and the planet, and are committed to what we do every day.
4. What are some aspects of Colorhouse that differentiate it from other paint companies?
I think there are quite few things that differentiate Colorhouse from other paint companies. First off- our story: Colorhouse was founded by two artists- Virginia Young and Janie Lowe – who were passionate about color and wanted to create a healthier paint. As a result, we have harmonious color palettes designed to be backdrops for living, not overwhelm a space.
5. How is Colorhouse paint different from other paint?
In addition to NO VOCs, Colorhouse paints have NO reproductive toxins, NO chemical solvents, and NO toxic fumes/HAPs free. From our recycled packaging to our LEED Gold manufacturing facility, we strive to find a greener way in all we do.
6. Where does Colorhouse draw inspiration for paint colors?
My biggest source of color inspiration is travel – getting out about and being an observer. From a walk in my North Portland neighborhood of St Johns to an international trip to Amsterdam – if my eyes are open, I can find color inspiration anywhere.
7. What are some key mistakes that people make when choosing interior colors for their homes?
Not using our FREE color help service! In my experience, most people resort to neutrals – most often white – because they are overwhelmed by the amount of color options out there and afraid of making a mistake. If you go to colorhousepaint.com, we offer free advice on finding that perfect color for your home.
8. If you could give home owners one bit of advice about color, what would it be?
Color can be your best friend. It can help you create a home that is reflective of who you are and make you smile each time you walk in the door. My advice to homeowners is to take a colorful risk. Even if it's in a powder room or laundry room where you can close the door – TRY COLOR!
9. Colorhouse is really active in the Portland community – would you give us a couple of examples?
We love collaborating with Portland companies. Most recently with Bee Local – they used paint from our BEESWAX color family of golden hues on their be hives. As part of the collaboration, we created a cool Honeycomb Wall DIY inspired by the wonderful work they do to protect our bee population.

Last year, we released an exclusive color palette called the Mercantile Color Collection with Rejuvenation- such a beautiful, timeless group of 36 color that harmonizes with Rejuvenation home décor items and handcrafted lighting.

From a green perspective, our office/warehouse is a Paint Care drop off site. That means Portlanders can leave their old paint with us and we will properly dispose of it.

There are lots more examples – check our blog for the full scoop!
10. Is there a DIY painting technique that you could share with us?
My current favorite is our Picket Pattern using colors from the Mercantile Color Collection. You can check out how to make it here: http://www.colorhousepaint.com/blog/make-this-picket-pattern/
var vs_widget_hide_on_mobile = false;

https://thebungalowcompany.com/wp-content/uploads/2015/09/Picket-Pattern-featured.jpg
270
700
Bungalow Company
https://thebungalowcompany.com/wp-content/uploads/2013/12/BungalowCompanyLogo.png
Bungalow Company
2015-09-14 17:35:36
2018-05-24 14:39:31
10 Questions for Colorhouse Paint's Puji Sherer